Introduction to VIP Motor-Home
It is our pleasure to introduce to you an exceptional VIP events tool, a unique top-quality structure combining various technical and practical advantages. Its finish and modularity enable it to adapt perfectly to your VIP needs and reception and travel to the location of your choice. Follow the guide!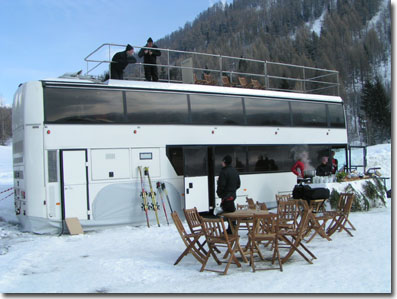 Model: Van Hool / Astromega TD 824
Feature: double-decker coach, luxury range from Van Hool, the global point of reference when it comes to luxury coaches.
Technical data for the VIP Motor-Home:
Length:

12 m

Width:

2.50 m.

Height:

4.12 m.

Tare:

17,620 kg.

Net weight:

22,750 kg.

Gross train weight (with trailer):

29,000 kg.

Interior volume:

level 1 = 13 m²; level 2 = 22 m²; terrace = 21 m².

Colour:

metallic grey (completely repainted in April 2005).

Vehicle classed as "truck"

(C and EC licences with trailer), but is not subject to the regulations governing breaks.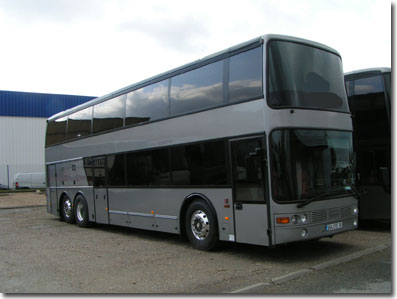 Technical data for the trailer (transport of awning, floor, accessories, etc.):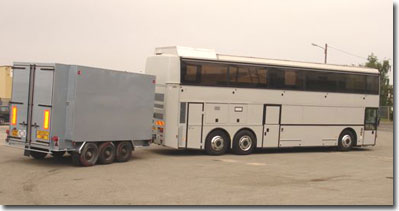 Length:

6.04 m.

Width:

2.50 m.

Height:

2.33 m.

Tare:

2,510 kg.

Net weight:

7 tonnes

Interior volume:

15.10 m3

VIP Motor-Home and trailer can be viewed at Gretz-Armainvilliers (département 77, France), where it is also based and maintained.