Guided tour of the VIP Motor-Home:
Two levels with a total area of 57 m²! Fitted out with natural materials, teak "decking" floor, stainless steel contour, mahogany panelling, Alcantara upholstery, furnishings and a finish that is unique for a motor-home!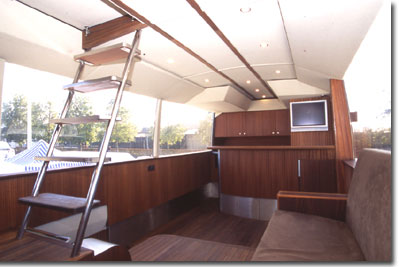 Technical system and equipment
Technical systems and equipment worthy of your office! Heating/air conditioning on both levels, multiple electrical and phone sockets, LCD TV screens, DVD, CD, video recorder, secretarial desk, bar area, meeting room, storage space, "aircraft-style" floor lighting, blinds, Simmons bedding (level 1 = 4 single beds; level 2 = 1 double bed).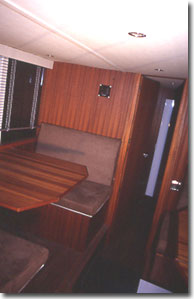 Pratical Equipement
Practical equipment: various cupboards; separate toilet; shower; kitchen (microwave oven, chopping board, sinks, etc.).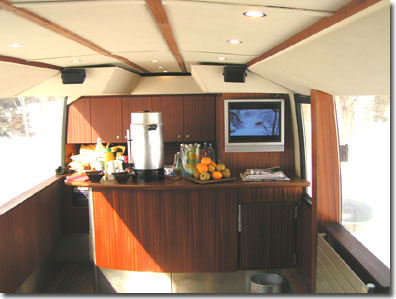 Teak terrace
Teak terrace with stainless steel railing, covered by a Stamoïd Light sun canopy. Capacity: 15 people thanks to the vehicle's anti-roll structure. Erection of railings + sun canopy takes 5 minutes.